Unknown Arena (Giants' Village South)

Location Details

Type

Boss Arena

Region

Hallowed Marsh

Marked Name

Unmarked

Build Name

HallowedDungeonsBosses
The Unknown Arena at Giants' Village (south) contains the powerful Ash Giant Highmonk boss.
Entrance
[
]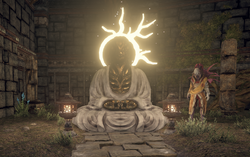 The entrance to the Unknown Arena can be found at Giants' Village, in the south of the village. From the entrance, take the path down to the left, the entrance is the statue of the Dawn Weaver with lightning surrounding it.
Requirement
[
]
Entrance to this Arena requires a one-time sacrifice of 10x Firefly Powder.
Enemies
[
]
Relics
[
]
When you open the Ornate Chest you will receive 2 Relics. There is an equal chance of receiving each Relic. You cannot receive the same Relic twice from one opening.
Gallery
[
]
See Also
[
]