Unknown Arena (Berg)

Location Details

Type

Boss Arena

Region

Enmerkar Forest

Marked Name

Unmarked

Build Name

EmercarDungeonsBosses
The Unknown Arena at Berg contains the Light Mender and Plague Doctor bosses.
Entrance
[
]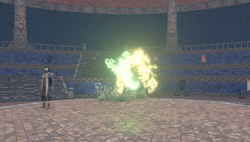 The entrance to the Unknown Arena can be found at Berg, in the Blue Chamber (Building).
Requirement
[
]
Entrance to this Arena requires you to have defeated the Light Mender and Plague Doctor (at the Spire of Light and Dark Ziggurat, respectively).
Note: for your first entry, it will only appear at midnight between 12:00 and 12:05 AM. You must quickly interact with the glowing Lich spirits before they disappear.
Enemies
[
]
Relics
[
]
When you open the Ornate Chest you will receive 2 Relics. There is an equal chance of receiving each Relic. You cannot receive the same Relic twice from one opening.
Gallery
[
]
See Also
[
]