Parched Shipwrecks

Location Details

Type

Other

Region

Abrassar

Marked Name

Parched Shipwrecks
Map Image

Modding

Scene Name

AbrassarDungeonsSmall
The Parched Shipwrecks are a pair of marooned ships buried in the sands of the Abrassar Desert. It is located in the center of the valley between The Walled Garden, Abandoned Docks and Stone Titan Caves.
Exterior
[
]
Enemies
[
]
Unknown Arena
[
]
This location contains an end-game boss fight known as an Unknown Arena. See this article for more details.
Loot
[
]
Loot Containers:
1x Ornate Chest located on the deck of the northern shipwreck
Gatherables:
Captain's Cabin
[
]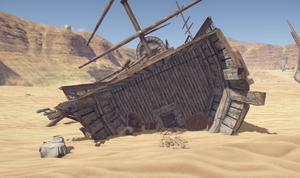 The Captain's Cabin can be entered through the doors on the ground level of the southern boat.
Enemies
[
]
Loot
[
]
Gallery
[
]
See Also
[
]