Needs are a type of Attribute in Outward, which will result in negative Status Effects when ignored.
Overview
[
]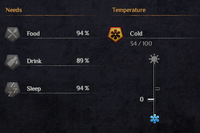 There are five types of Needs in Outward:
Defeats
[
]
Reaching 0% in Food, Drink or Sleep will cause the player to collapse with exhaustion and receive a Defeat Scenario.
Reaching 0 or 100 in Temperature will also cause a defeat scenario.
List of Needs Effects
[
]
For Corruption effects, see Corruption.
See Also
[
]