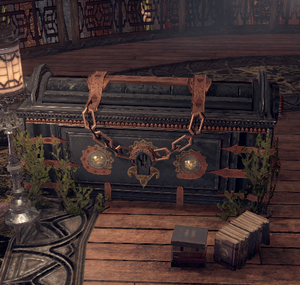 Legacy Chests are hidden chests found in Outward which can be used to pass down items to legacy characters.
There are a total of four Legacy Chests, one in each of the base-game regions, so a player can inherit four legacy items per play-through.
Usage
[
]
To use a Legacy Chest, a player must insert items into all desired legacy chests, and then start a new character. On the character creation screen, make sure to select the appropriate Ancestor character with the 'Legacy' option. The items you placed in the chests will be shown on the menu.
After the new character is created, the player will have to travel to each of the Legacy Chest locations (see below) to retrieve their inherited items. If the ancestor character removes or changes the items in the chests after the point of creation, it will not update for the legacy character. Likewise, claiming the items from the chests on the legacy character will not affect the ancestor, so the same original items can be reused to make multiple legacy characters, or removed from the chests at any point.
Locations
[
]
Legacy Chests can be found in the following locations:
Hallowed Marsh: Inside the Spire Of Light, requires pulling the levers to disable the blue barrier wall, then an additional set of levers in the newly unlocked basement area.
Item Upgrades
[
]
Certain items will be upgraded when inherited from a Legacy Chest.
See Also
[
]