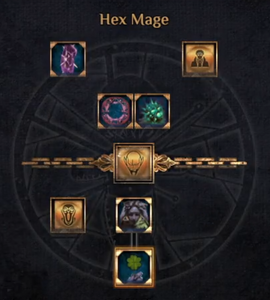 Hex Mage Skills are trained by Ella Lockwell in the city of Harmattan. These skills are exclusive to The Soroboreans DLC.
List of Skills
[
]
Tier 1: Universal Skills
[
]
The universal Hex Mage skills can be acquired by anyone, without having to learn the class breakthrough skill.
Tier 2: Breakthrough Skill
[
]
Learning this skill will let you learn more advanced Hex Mage skills, but keep in mind that you can only specialize in three classes and your choice of specialization is permanent.
Tier 3: Specialization Skills
[
]
More advanced skills for those that specialize as a Hex Mage. The skills Blood Sigil and Rupture are mutually exclusive - when you choose one, you can never learn the other.
See also
[
]