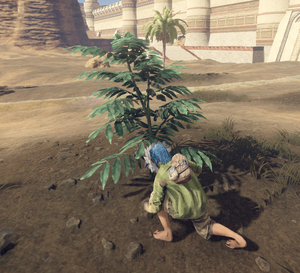 Gathering is a basic activity, by which the player receives items from natural resources. Gatherables are commonly used in Cooking, Crafting and Alchemy, though they can have other uses too.
Overview
[
]
For most Gatherables, the player simply has to interact with the object by holding down their "Interact" button for a few seconds. Mining and Fishing, however, require the player to have specific tools in order to interact.
Most Gatherables will reset after 3 days. Fishing Spots will reset after 1 day.
Fishing and Mining
[
]
Fishing and Mining are two sub-categories of Gathering, which both require specific tools.
See the main articles for more information.
Basic Gathering
[
]
Basic gathering does not require any tools.
Plants / Vegetables:
Mushrooms:
Other:
Water:
Gathering water requires a Waterskin.
The Soroboreans
[
]
These gatherables are exclusive to

The Soroboreans DLC:
The Three Brothers
[
]
These gatherables are exclusive to

The Three Brothers DLC:
See Also
[
]