Chersonese is a Region in Outward. The main city of Chersonese is Cierzo. It is a mountainous, coastal region. Common enemies in this region include bandits, pearlbirds, hyenas and mantis shrimp.
Description
[
]
| | | |
| --- | --- | --- |
| " | Cold seaside mountains, teeming with wildlife and many bandit clans. | " |
Chersonese exterior is a mountainous area, with the most notable landmarks being Conflux Mountain, the Vigil Pylon and the Lighthouse of Cierzo. It is a fairly cold region, and can experience snow during Winter time.
The region is abundant with gatherables, and the enemies are generally more forgiving than in other regions, making it the perfect area for new players to make their start.
Travel
[
]
Chersonese connects to Hallowed Marsh to the north-east, and Enmerkar Forest to the south-east.
Locations
[
]
The following is a list of locations which can be accessed from Chersonese outdoors.
Major Locations
[
]
Minor Locations
[
]
Minor locations are part of Chersonese Misc. Dungeons, and will show this name on loading screens.
Other
[
]
Weather
[
]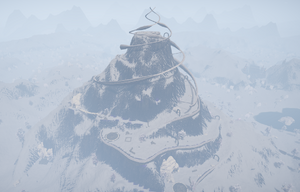 Chersonese has the most dynamic weather system of the four base-game regions, with a unique Snowing effect which occurs during Winter.
Autumn
Daytime: +/- 0 (Neutral). Nighttime: -14

(Fresh).
A new character will begin in Autumn, and starts a few days into the season.
Rain is common in Autumn.
If you are leaving winter, snow will clear over the course of a few days.
Winter
Daytime: -30

(Very Cold). Nighttime: -45

(Coldest).
The first Winter can occur as early as day 12, or as late as day 17.
It will begin to snow, greatly reducing the outdoor temperature.
Shipwreck
[
]
There is a Shipwreck in south-eastern Chersonese near Voltaic Hatchery, where players can find Yzan's stash. Should they answer the small riddle correctly, they will be rewarded with a few valuable items.
This Shipwreck is not to be confused with the Shipwreck (Castaway), the starting location where all players begin their game.

This article is associated with the following
Transcript
pages:
NPCs
[
]
The following NPCs can be found in Chersonese exterior:
Enemies
[
]
The following enemies can be found in Chersonese outdoors:
Common:
Uncommon:
Note: Spawn behavior may be somewhat reduced during Winter time.
Ambush Scenarios
[
]
Loot
[
]
The following loot can be found in Chersonese exterior:
Loot Containers:
Ore:
Fishing:
Chersonese contains "beach"-type Fishing Spots, as well as "river"-type.
There are at least 50 spots, including all rivers and coasts.
Basic Gatherables:
Defeat Scenarios
[
]
Gallery
[
]
A view from the gates of Cierzo in Winter time
See Also
[
]