Chersonese
Chersonese

Location Details

Type

Region
Map Image

A map of Chersonese, including all locations
Modding

Scene Name

ChersoneseNewTerrain
Chersonese is a Region in Outward. The main city of Chersonese is Cierzo. It is a mountainous, coastal region, and currently it is the only region which has snow. Common enemies in this region include bandits, pearlbirds, hyenas and mantis shrimp.
| | | |
| --- | --- | --- |
| " | Cold seaside mountains, teeming with wildlife and many bandit clans. | " |
Chersonese connects to Hallowed Marsh to the north-east, and Enmerkar Forest to the south-east.
Exterior
For details about the open exterior region of Chersonese (such as enemies, loot, NPCs, etc) see:
The following is a list of locations which can be accessed from Chersonese outdoors.
Minor locations are part of Chersonese Misc. Dungeons, and will show this name on loading screens.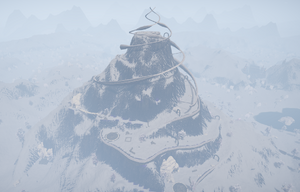 Chersonese has the most dynamic weather system of the four base-game regions, with a unique Snowing effect which occurs during Winter.
Autumn
Daytime: +/- 0 (Neutral). Nighttime: -14

(Fresh).
A new character will begin in Autumn, and starts a few days into the season.
Rain is common in Autumn.
If you are leaving winter, snow will clear over the course of a few days.
Winter
Daytime: -30

(Very Cold). Nighttime: -45

(Coldest).
The first Winter can occur as early as day 12, or as late as day 17.
Spawn behavior of most outdoor enemies, such as Hyena and Pearlbird, is observably reduced.
It will begin to snow, greatly reducing the outdoor temperature.
A view from the gates of Cierzo in Winter time