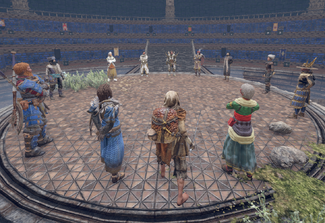 Characters, or NPCs (Non-Player Characters) when not referring to the player, are an important part of the world in Outward. By interacting with NPCs and exploring their dialogue, the player can learn Skills, buy and sell various Items, partake in Quests, and learn about Lore and the world. Most NPCs are members of one of the major Factions.
For information about the player character from a game-mechanics perspective, see Attributes.
The Player
[
]
Other than what is told to us through the dialogue at the beginning of Castaway and various characters in Cierzo, we know relatively little about ourselves. Most of our story is defined by our choices in Quests.
At the beginning of the game, we are told that we have lived in Cierzo all our life. We bear the heavy burden of a Blood Price placed on our family by our Grandmother, long ago. We are the only child of a hunter and huntress couple who were the keepers of the Cierzo lighthouse, which we are now the sole inhabitant of after their passing.
Most recently, we embarked on an expedition with our close friend Yzan Argenson and a group of several other Cierzo natives to Oroshi, hoping to claim enough bounty there to pay off our debts to the Tribe. Catastrophically, our ship hit rocks on the return voyage, and we lucky to escape with our lives at all.
Major NPCs
[
]
The major characters in Outward are those who are closest to the player's character, and those who hold power over the world of Aurai. In some cases, characters can be both.
In terms of closeness to the player, the most important characters are:
Other characters which hold considerable power over Aurai include:
Categories
[
]
See these pages for details on specific types of NPCs:
See also: Enemies (these characters do not generally have dialogue, or are not capable of it).
List of All NPCs
[
]
The following is a list of all NPCs.
General
[
]
Image
Name
Type
Location(s)
Faction(s)
Teaches
Gives Quests

"Platypus" Pete
General
Harmattan
Sorobor Academy
-
-

Adalbert the Hermit
Teacher
Hermit's House
The Cabal of Wind
Cabal Hermit
-

Agatha, Maiden of the Winds
Merchant (Alchemy)
Hermit's House
The Cabal of Wind
-
-

Alda from Old Levant
General
Berg
The Sand Corsairs
-
-

Alemmon
Teacher
Monsoon
The Holy Mission of Elatt
Philosopher
-

Anthony Berthelot, Krypteia Scholar
General
Teacher
Old Sirocco
New Sirocco
The Blue Chamber Collective
The Krypteia
Infuse Blood
-

Apprentice Ritualist
Merchant (Alchemy)
Ritualist's hut
Sirocco
-
-

Artois Sutherland
General
Harmattan
Sorobor Academy
-
-

Balira
General
Quest Enemy (potential)
Vendavel Fortress
Cierzo (Destroyed)
The Vendavel
Cabal of Wind (Former)
-
-

Balthazar Berthelot
General
Berg
The Blue Chamber Collective
-
-

Baron Montgomery
Quest Enemy (potential)
Levant
Undercity Passage
The Heroic Kingdom of Levant
-
-

Barrel Man
General
Slums
The Heroic Kingdom of Levant
-
-

Bea Battleborn, Weapons Master
Teacher
New Sirocco
Sirocco
Weapons Master
-

Brad Aberdeen, Chef
Merchant (Food)
New Sirocco
Sirocco
-
-

Bradley Auteil, Armory
Merchant (Equipment)
Harmattan
Sorobor Academy
-
Need: Fire Elemental Particles

Bruce, Arena Master
General
Old Sirocco
New Sirocco
Sirocco
-
-

Burac Carillon
Trainer
Cierzo
The Blue Chamber Collective
Pommel Counter
Choice of one Weapon-specific Weapon Skill or Enrage (once)
Vendavel

The Butcher of Men
General
Quest Enemy
Monsoon
Abandoned Storage
-
-
-

Cardinal Bourlamaque
General
Monsoon
The Holy Mission of Elatt
-
Hallowed Peacemaker

Cera Carillion, Weaponsmith
Merchant (Equipment)
Harmattan
Sorobor Academy
-
Need: Shield Golem Scrap

Chef Iasu
Merchant (Food)
Berg
The Blue Chamber Collective
-
Need: Manticore Tail

Chef Tenno
Merchant (Food)
Levant
The Blue Chamber Collective
-
Need: Shark Cartilage

Chimer
General
Harmattan
Sorobor Academy
-
-

Clayton
General
Ruins of Old Levant
Sorobor Academy
-
-

Conrad
General
Harmattan
Sorobor Academy
-
-

Cremeuh Ayere
General
Necropolis
The Blue Chamber Collective
-
Skulls for Cremeuh

Crock
General
Quest Enemy (potential)
Vendavel Fortress
Cierzo (Destroyed)
The Vendavel
-
-

Cyrene
General
Levant
The Heroic Kingdom of Levant
-
Tending the Flame
Sand Corsairs

Cyril Turnbull
Trainer
Berg
Sorobor Academy
Mist (skill)
-

Damian Lockwell
General
Monsoon
The Holy Mission of Elatt
-
-

David Parks, Craftsman
Merchant (General)
Harmattan
Sorobor Academy
-
Need: Angel Food Cake

Dawne
Quest Enemy (potential)
Slums
Undercity Passage
The Sand Corsairs
-
-

Desy Laroche
General
Harmattan
Sorobor Academy
-
-

Dolar
Merchant
Giant's Sauna
The Ash Giants
-
-

Dorion Dumas
General
Old Sirocco
New Sirocco
Sirocco
-
-

Elatt
General
Monsoon
In Between
The Holy Mission of Elatt
Infuse Light
-

Ella Lockwell, Master of Cursecraft
Teacher
Harmattan
Sorobor Academy
Hex Mage
-

Ellinara
General
Monsoon
The Holy Mission of Elatt
-
-

Engineer Orsten
Merchant (Equipment)
Levant
The Heroic Kingdom of Levant
-
-

Erica Kasper, Dean of Naturalism
General
Harmattan
Sorobor Academy
-
-

Etios von Vanoos
General
Cierzo
Unknown
-
Purify The Water

Eto Akiyuki
Teacher
Cierzo
The Kazite
Kazite Spellblade
-

Eva G. Leon
General
Harmattan
Sorobor Academy
-
-

Evangeline Vallier
General
Old Sirocco
New Sirocco
Sirocco
-
-

Felix Jimson, Shopkeeper
Merchant (General)
Harmattan
Sorobor Academy
-
-

First Watcher
Trainer
Conflux Chambers
Unknown
Flamethrower
Sigil of Fire
Reveal Soul
Acquire Mana

Fishmonger Karl
Merchant (Food)
Cierzo
The Blue Chamber Collective
-
-

Five Eyes
General
Giant's Sauna
The Ash Giants
-
-

Flase, Sage Trainer
Teacher
Berg
The Blue Chamber Collective
Rune Sage
-

Forge Master
Lich
Boss
Forgotten Research Laboratory
Sorobor Academy (former)
-
-

Fourth Watcher
Merchant (Alchemy)
Conflux Chambers
Unknown
-
-

Friendly Immaculate
NPC
Trainer
Enemy
Immaculate's Camp
-
Possessed (skill)
-

Gabriella Sullivan
General
Berg
The Blue Chamber Collective
The Krypteia
-
-

Galira
Teacher
Monsoon
The Holy Mission of Elatt
Warrior Monk
-

Gold Belly
Merchant (General)
Giants' Village
The Ash Giants
-
-

Gregory Turnbull, Dean of the Arcane
General
Harmattan
Sorobor Academy
-
Cloak and Dagger
A House Divided

Headmaster Raul Salaberry
General
Harmattan
Sorobor Academy
Doom Hex
Up The Ladder

Helen Turnbull
General
Cierzo
Sorobor Academy
-
Helen's Fungus

Helmi the Alchemist
Merchant (Alchemy)
Cierzo
The Blue Chamber Collective
-
Acquire Mana
Alchemy: Crystal Powder

Highlord Cyr
Quest Enemy (potential)
Giants' Village
The Ash Giants
-
-

Howard Brock, Blacksmith
Merchant (Equipment)
Blacksmith
Harmattan
Sorobor Academy
-
-

Hugo Lockwell, Provost of Academic Affairs
General
Harmattan
Sorobor Academy
-
-

Ibolya Battleborn, Chef
Merchant (Food)
Harmattan
Sorobor Academy
-
Need: Manaheart Bass

Iron Sides
Merchant (Equipment)
Giants' Village
The Ash Giants
-
-

Jager Sullivan
General
Berg
Sorobor Academy
-
-

Jaimon
Teacher
Levant
The Heroic Kingdom of Levant
Mercenary
-

Jake
General
Harmattan
Sorobor Academy
-
-

Jane Vincent, Recruiter
General
Harmattan
Sorobor Academy
-
-

Joliette Montgomery, Dean of History
General
Harmattan
Sorobor Academy
-
-

Josef Dumas
General
Old Sirocco
New Sirocco
Sirocco
-
-

Julius Sutherland
General
Berg
The Blue Chamber Collective
The Krypteia
-
-

Justin Garnet, Specialist Trainer
Teacher
New Sirocco
Sirocco
Specialist
-

Kapros
General
Berg
The Heroic Kingdom of Levant
-
-

King Simeon
Trainer
Levant
The Heroic Kingdom of Levant
Simeon's Gambit
-

Kirouac
General
Levant
The Heroic Kingdom of Levant
-
-

Laine the Alchemist
Merchant (Alchemy)
Monsoon
The Holy Mission of Elatt
-
-

Lawrence Dakers, Hunter
Merchant (Equipment)
Harmattan
Sorobor Academy
-
Need: Tourmaline

The Light Mender
Lich
Boss
Spire of Light
Berg Arena
-
-
-

Loud-Hammer
Merchant (Equipment)
Blacksmith
Cierzo
The Blue Chamber Collective
-
-

Luc Salaberry, Alchemist
Merchant (Alchemy)
New Sirocco
Sirocco
-
-

Markus
Trainer
Quest Enemy (potential)
Slums
Undercity Passage
The Heroic Kingdom of Levant
Puncture
-

Master of the Colosseum
General
Calygrey Colosseum
Calygrey
-
-

Master-Chef Arago
Merchant (Food)
Cierzo
The Blue Chamber Collective
-
Need: Cierzo Ceviche

Master-Smith Tokuga
Merchant (Equipment)
Blacksmith
Levant
The Heroic Kingdom of Levant
-
-

Mathias
Merchant (Other)
Berg
The Holy Mission of Elatt
-
-

Mavith
Trainer
Harmattan
Sorobor Academy
Prismatic Flurry
-

Michel Aberdeen
General
Chersonese
The Blue Chamber Collective
-
-

Mofat
General
Trainer
Monsoon
The Holy Mission of Elatt
Blessed (skill)
-

Muii
General
Harmattan
Sorobor Academy
-
-

Myriade
General
Corrupted Tombs
Unknown
-
A Myriad of Bones

Oda, Kazite Trainer
Trainer
Cierzo
The Kazite
Talus Cleaver
-

Ogoi, Kazite Assassin
Merchant (Other)
Berg
The Kazite
-
Need: Beast Golem Scraps

Oliele Aberdeen
General
Cierzo
Monsoon
Berg
The Holy Mission of Elatt
-
-

Ountz the Melon Farmer
Merchant (Food)
Monsoon
The Holy Mission of Elatt
-
-

Owen, Healer
General
Old Sirocco
New Sirocco
Sirocco
-
-

Patrick Arago, General Store
Merchant (General)
New Sirocco
Sirocco
-
-

Paul, Disciple
General
Teacher
Old Sirocco
New Sirocco
Sirocco
Elatt's Intervention
-

Pelletier Baker, Chef
Merchant (Food)
Harmattan
Sorobor Academy
-
-

Pholiota
Merchant (Other)
Troglodyte Warren
Bandit Hideout
Various Antique Plateau Dungeons
Unknown
-
-

Pigeoneye
General
Slums
The Heroic Kingdom of Levant
-
Silver for the Slums

The Plague Doctor
Lich
Boss
Dark Ziggurat
Berg Arena
-
-
-

Prince Jaden
General
The Heroic Kingdom of Levant
-
-

Prince Pietro
General
The Heroic Kingdom of Levant
-
-

Queen Calixa
General
Levant
The Heroic Kingdom of Levant
-
Mouths to Feed
Heroic Peacemaker

Quikiza the Blacksmith
Merchant (Equipment)
Blacksmith
Berg
The Blue Chamber Collective
-
-

Raline Lor'eman
General
Harmattan
Sorobor Academy
-
-

Rastarte
General
Montcalm Clan Fort
The Montcalm Tribe
-
-

Researcher Boye
General
Face of the Ancients
Sorobor Academy
-
Red Idol

Rissa Aberdeen
General
Cierzo
Berg
The Blue Chamber Collective
The Krypteia
-
Call to Adventure
Looking to the Future
Mixed Legacies
Ash Giants
Whispering Bones
Ancestral Peacemaker

Robyn Garnet, Alchemist
Merchant (Alchemy)
Trainer
Harmattan
Sorobor Academy
Haunt Hex
-

Roland Argenson
General
Quest Enemy (potential)
Cierzo
Berg
The Blue Chamber Collective
-
-

Rospa Akiyuki
General
Quest Enemy (potential)
Vendavel Fortress
Cierzo (Destroyed)
The Vendavel
The Kazite
-
-

Roy Sullivan, Raging Myrm Innkeeper
General
Old Sirocco
Sirocco
-
-

Rufus
General
Cierzo
The Holy Mission of Elatt
-
-

Ryan Sullivan, Arcanist
Merchant (Other)
Harmattan
Sorobor Academy
-
-

Sagard Battleborn
Trainer
Quest Enemy (potential)
Berg
The Blue Chamber Collective
Execution
-

Sal Dumas, Blacksmith
Merchant (Equipment)
New Sirocco
Sirocco
-
-

Samantha Turnbull, Head Enchanter
General
Trainer
Old Sirocco
New Sirocco
Sirocco
Infuse Mana
-

Samuel Laurent, Dean of Engineering
General
Harmattan
Sorobor Academy
-
-

Scarlet Lady
Lich
Scarlet Moon
Face of the Ancients (altar)
The Krypteia (former)
-
-

Second Watcher
Trainer
Conflux Chambers
Unknown
Cool (skill)
-

Sekiguchi Meiko, Provost of Mercantile affairs
General
Harmattan
Sorobor Academy
-
-

Serge Battleborn, Master of Motion
Teacher
Harmattan
Sorobor Academy
The Speedster
-

Shopkeeper Doran
Merchant (General)
Cierzo
The Blue Chamber Collective
-
Ledger to Berg

Shopkeeper Lyda
Merchant (General)
Monsoon
The Holy Mission of Elatt
-
Ledger to Levant

Shopkeeper Pleel
Merchant (General)
Berg
The Blue Chamber Collective
-
Ledger to Monsoon

Shopkeeper Suul
Merchant (General)
Levant
The Heroic Kingdom of Levant
-
Ledger to Cierzo

Silver Tooth
Merchant
Silkworm's Refuge
The Ash Giants
-
-

Silver-Nose the Trader
Merchant (Other)
Hallowed Marsh
The Ash Giants
-
-

Sinai, the Primal Ritualist
Teacher
Ritualist's hut
Sirocco
Primal Ritualist
-

Smooth the Tailor
Merchant (Equipment)
Trainer
Levant
The Heroic Kingdom of Levant
Warm (skill)
-

Soeran
Trainer
Monsoon
The Holy Mission of Elatt
Juggernaut
-

Soroborean Caravanner
Merchant (General)
All major Cities
All Regions
Sorobor Academy
-
Enrollment

Styx
Teacher
Slums
The Heroic Kingdom of Levant
Rogue Engineer
-

Summoned Ghost
Summoned Ally
-
-
-

Taleron
Trainer
Berg
The Holy Mission of Elatt
Mace Infusion
-

Tamara the Smuggler
Merchant (Other)
Slums
The Heroic Kingdom of Levant
-
Lost Merchant

The 9th Watcher
Trainer
Harmattan
Sorobor Academy
Reveal Soul
Sigil of Fire
Scorch Hex
-

Titatrok the Cook
General
Quest Enemy (potential)
Vendavel Fortress
The Vendavel
-
-

Tuan the Alchemist
Merchant (Alchemy)
Levant
The Heroic Kingdom of Levant
-
-

Ture
Teacher
Berg
The Blue Chamber Collective
Wild Hunter
-

Vay the Alchemist
Merchant (Alchemy)
Berg
The Blue Chamber Collective
-
Alchemy: Cold Stone

Vendavel Prisoner
Merchant (General)
Trainer
Vendavel Prison
Unknown
Backstab
-

Vendavel's Nurse
General
Quest Enemy (potential)
Vendavel Fortress
The Vendavel
-
-

Victor Berthelot, Dean of the Military
General
Harmattan
Sorobor Academy
-
A Knife in the Back

Vyzyrinthrix the Blacksmith
Merchant (Equipment)
Blacksmith
Monsoon
The Holy Mission of Elatt
-
-

Wandering Mercenary
Trainer
Monsoon
The Holy Mission of Elatt
Moon Swipe
-

Whispering Bones
Lich
Necropolis
The Blue Chamber Collective
-
-

Yan, Levantine Alchemist
General
Teacher
Old Sirocco
New Sirocco
Sirocco
Kirouac's Breakthrough
-

Zagis
Quest Enemy (potential)
Ruins of Old Levant
The Sand Corsairs
-
-

Zephyrien
General
Monsoon
Holy Mission's Conflux Path
Berg (during council meeting)
Conflux Chambers
The Holy Mission of Elatt
-
-
See Also
[
]